Gäste Kommentare
Stefano B., Italy Tuesday, 20 February 2018
An holiday to be repeated
I spent three weeks on Tiziano in August 2017 with six friends.
I think that the holiday couldn't have been as pleasant and well organised as it was.
On board, not only great Captain and crew professionalism, but also attention to detail, congeniality and precious advices whenever we wanted to disembark.
It could be difficult to imagine something better!
An holiday to be repeated.
Stefano B., Italy
Astrid, Germany Tuesday, 20 February 2018
Will come again!
During the last year in September we booked the Tiziano Saba 50 and made a great journey starting from Athens.
As we arrived the driver with an exclusive VAN was waiting for us and drove us to the VIP harbour -Flisfos. All details were arranged from Marina, the office lady.
As we arrived, we had a wonderful and warm welcome from the captain Stavros and his team! Champagne and some nice snacks were waiting for us
George, the host, brought our luggage to the room and we could explore the Saba 50 and enjoy the champagne and snacks.
As we went to our cabins we found nice flowers and a wonderful surrounding in the cabin. Everything was there and never could we imagine that the cabins are so nice and big. Our holidays started wonderful!
During the next days we saw wonderful islands, blue water, nice villages and we sailed calmly through the wonderful countryside of the Aegean world. Our captain made the route as we liked. He gave us some suggestions and together with him we decided and found wonderful places to swim and to enjoy live.
The cooking lady Natasha spoiled us with a very delicious food during lunchtime and dinner. Sometimes our captain suggested us a nice tavern or a good restaurant, where we could enjoy the fresh Greek food.
Every day we loved the sailing, the weather, the crew and the time we had on the Tiziano catamaran!
Next year we will come again!
Astrid, Germany
Ирина и Александр Wednesday, 20 September 2017
Незабываемая неделя с Тициано
Провели незабываемую неделю с Тициано с 23.09. Ставрос - шкипер знает самые секретные бухты, очень бережно и внимательно относится к гостям. Знает специальные места которые нужно посетить во время отдыха. Наталья - шеф-повар - без устали готовит. Очень вкусно печет. Если Вы хотите провести незабываемую и расслабленную неделю отпуска - Вам сюда. Не ошибётесь.
Andrea M.N Saturday, 15 July 2017
loved being on Tiziano
Jerritt and I loved being on Tiziano the summer of 2017. First of all the crew was incredible, Stavros, George and our chef Natasha were extremely helpful and fun to be around!!! Second of all, the boat was super clean and mantained like new! We loved gathering our friends for a week in the sail of the Greek Islands. We would definitely consider sailing on TIziano again, maybe for a longer period of time!
Andrea M.N., USA, July 2017
Алла, Киев Saturday, 03 June 2017
Прекрасная неделя на новом катамаране Тициано
Прекрасная неделя на новом комфортном катамаране Тициано! Особенно хочу отметить профессионализм капитана и выбранный маршрут с посещением самого красивого исторического города Греции - Монемвасии. Спасибо команде Тициано за замечательно проведенное время!
Алла, Киев, 03/06/17 - 10/06/17
Obrigado Tiziano Wednesday, 10 May 2017
Obrigado Tiziano
Uma forma unica de explorar a Grécia e seus recantos e encantos.
Barco fantastico, equipa maravilhosa!
Obrigado Tiziano

Portugal
Agosto de 2017
Brasil Monday, 20 March 2017
Uma experiência incrível
Thank you, thank you, thank you TIZIANO!
Brasil, 2017
Dominique S., 2017 Monday, 20 February 2017
Wonderful time at TIZIANO
We had a wonderful time at the TIZIANO Catamaran in June!
Everything was perfekt: the service on bord, the food, the luxury accomodation and the weather.
The team was very responsive to all our wishes and we had a really relaxing and unforgetable time.
We are looking forward spending our holiday on the TIZIANO again.
Dominique S., 2017
Toronto, Canada, July 2017 Monday, 20 February 2017
Tiziano crew - fantastic trip!
Thank you very much for the hospitality and first class service. We sailed through very rough waters and your crew made us feel safe and relaxed through it all, and well-fed!
We had amazing time, great care, treatment, food and fun. A wonderful trip! Thank you!!

Toronto, Canada, July 2017
Michael and Maria Monday, 20 February 2017
We had a wonderful time!
Dear crew of Tiziano!
We had a wonderful time here in Greece!! After spending some days within historical Athens we came to Tiziano catamaran - and to many different locations and beautiful bays, thanks to our captain Stavros. We enjoyed the food from our wonderful chef and George (our host) was every time here to help us in any case. So our vacation ends and we have to leave the sea and go back home.. We hope it was not the last time on board of Tiziano and we will return soon!
Michael and Maria, September 2017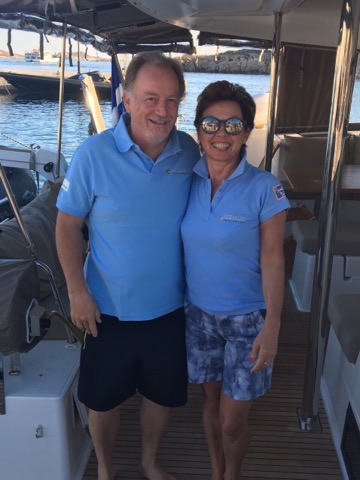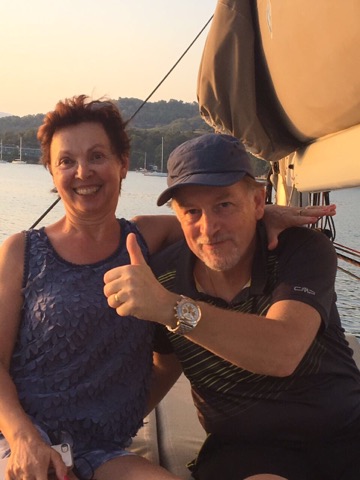 11 entries in guestbook